Hello guys, how do you do? Hope you are feeling fine. Welcome to ListAwe; the blog with all the answers to your questions. In this article; we would be answering the question of how Flowextra works and most importantly, if Flowextra Income Program is legit or a total scam.
As you know, there are many reviews of Flowextra on the internet and all of them appear satisfactory.
What then separates this ListAwe review of Flowextra from the tens and thousands of other reviews out there? Well, for starters, ListAwe's reviews of online businesses are remarkably accurate and are always updated. It is very unlikely that you would find a more detailed article about the ins and outs of Flowextra than this one.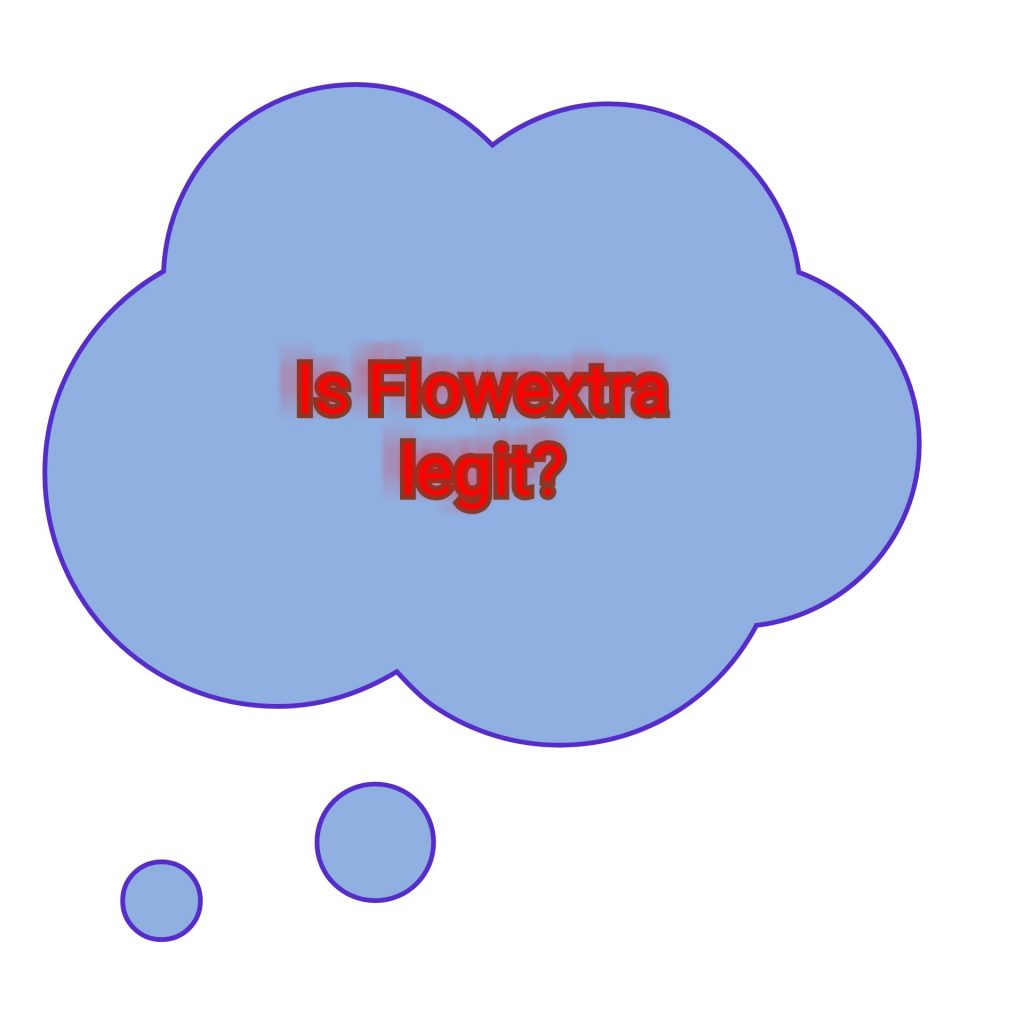 So folks, sit back, relax and rest this article keenly as we answer the frequently asked questions about Flowextra Income program.
What is Flowextra?
This is the question that almost all of our readers ask first when they stumble upon an online income program. For us, our job is to provide answers to that question as concisely as possible.
So…, What is Flowextra? Flowextra is a news platform, that serves the primary purpose of the dissemination of information, locally and globally, to its target audience.
But wait! Is that all Flowextra is about? No, that is not all. Apart from being a news platform, Flowextra also functions as an income program. An example of an income program is Boompay.
So what exactly are these things we call income programs? Income programs are businesses designed to reward users for the many activities they perform on the platform. Basically, an income program gains from you and if you know how to work the system; you equally gain from the system.
How does Flowextra work?
Flowextra is a business and it gives incentives to registered users on the basis of a self created system called FAE points. What are FAE points? We would get to this question later. In the meantime, let's talk about how to register/sign up for Flowextra.
How do I register or sign up for Flowextra?
Flowextra follows the basic method for registration that virtually all Nigerian income program follow. If you have experience with Income programs in the past, it shouldn't be too hard for you to register on Flowextra.
Here's how to register on Flowextra;
1. Purchase a coupon code from a Flowextra accredited vendor
Obtaining a coupon code is one of the requirements for registering on Flowextra. Without it, you cannot start any form of registration.
So what is a coupon code? A coupon code is a string of meaningless alphabets and numbers used by many income programs; like Flowextra for example, for acquiring new users and for procuring sign up fees from its new users.
A Flowextra coupon code should look something like this: 123344567xyz4b25lb78.
As you can see, it looks pretty meaningless. It is also difficult to guess a string of code that has not been used or exist within the system of Flowextra's registration database.
To ensure that your coupon code is valid, Flowextra always advices new users to only purchase coupon codes from accredited vendors. You can find these vendors on the platform.
Contact any vendor in the above link and inform him/her of your desire to purchase a coupon code. The person will tell you to send the sum of ₦2,500 to his/her account number. Don't panic. As long as he/she is accredited, your money is in safe hands and you will get what you paid for.
After the coupon vendor has confirmed your payment into his/her account, a coupon code will be generated and sent to you via whichever means you contacted the vendor. We advise to contact all coupon vendors via WhatsApp as this means you can send messages free of mobile charges.
2. Proceed to the sign up page
After you have purchased the coupon code, you would need to sign yourself up. Click to this link and you would be directed to the registration page. A registration form will pop up on the screen of your device.
3. Provide your basic information 
The form will ask you simple questions. The aim is to get your personal details and help you create an account. You would be asked your first name, last name, username (your preferred name or moniker) and your valid email address.
Make sure your username and password is something you remember. Seriously, make sure you remember them as you would need them everytime you login. 
When you have provided all the required information, click on "ACCEPT TERMS" and "REGISTER" to submit your form. 
ALSO READ: All you need to know about OmegaPro, the Forex trading platform you might want to avoid.
4. Activate your account
There are two methods for activating your Flowextra account; either by using an already purchased coupon code or by ATM card activation. The former has already been explained band is what we consider the best and stress-free method to activate your account. 
ATM card activation are often time and effort-wasting as the internet connection may have problems at the time of your transaction. This could lead to loss of money. This is why ListAwe recommends the use of coupon codes instead. 
After you have selected "APPLY COUPON", a form will toggle to receive the code. 
After this, click on "APPLY". The website automatically directs you to your dashboard.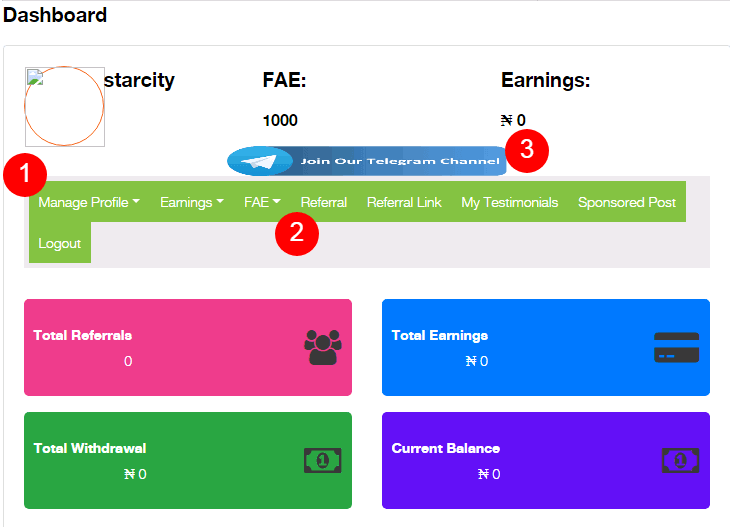 You should be taken to the above page. As you can see, Flowextra already gave me 1000 FAE points, we would discuss better in these points later. 
While we might have an account with Flowextra at this point, our work is nowhere near done. There are two more steps in this Flowextra registration. 
5. Manage your profile
A quick glance at your profile at this point will reveal the absence of certain things; for example your profile image and your bank information. 
So you will have to go to "MANAGE PROFILE". A tab appears and the tab you click on depends on the information you wish to edit. 
For profile image, select "EDIT PROFILE".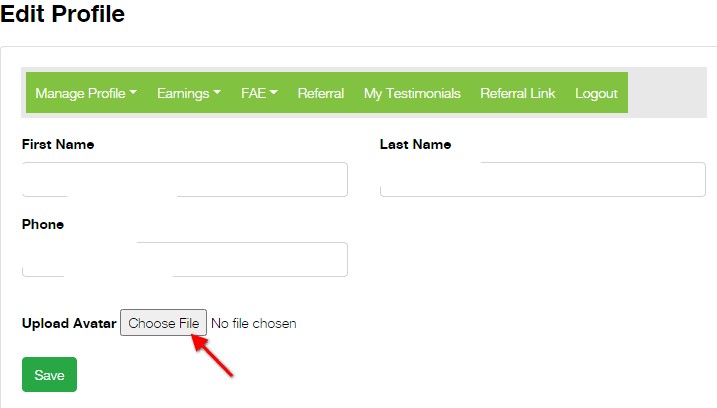 The above page will appear. Most information on this page have already been filled automatically. Click "CHOOSE FILE" and select any good image of yourself in your phone or computer device's gallery. Hit "SAVE" when you are done.
For bank details editing or adding, select "BANK DETAIL"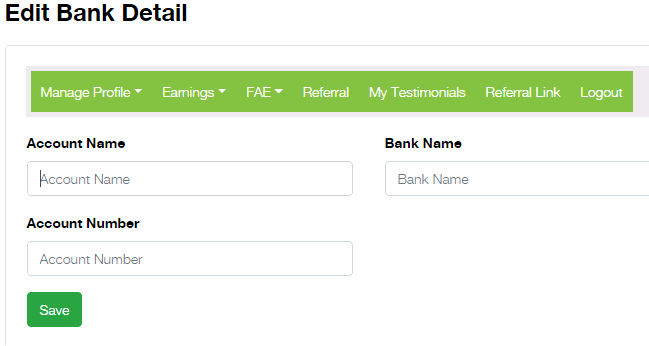 Provide your account name, bank name and account number. The ball must be a Nigerian bank. There is no discrimination when it comes to banks you fill in here. Any bank goes; GT Bank or even Jaiz Bank.
Make sure you fill in the correct details here. We don't want your hard earned money being sent to the wrong person, now do we?
When you have done this, click "SAVE".
Viola! We are done with our Flowextra registration.
Check out these articles you might find interesting; 
How do I earn on Flowextra?
Earning on Flowextra is not particularly hard. You just need to do the right things and you are set to earn. 
BUT WAIT! Do you know that Flowextra uses its own pint currency system? Yes, they do. 
On Flowextra, you would find the presence of two types of earnings; FAE and FRE. Both are different and that is why we took the time to explain them in detail;
1. Flowextra activity earnings (FAE)
Flowextra pays you for how engaged you are in the system. By engagement, we mean you performing simple activities like logging in to your account, reading news, commenting and sharing Flowextra sponsored posts on Facebook. 
All these activities contribute to the gradual increase of your FAE points. We would talk in-depth-ly about how much FAE points each activity gives you on Flowextra. 
2. Flowextra Referral Earning (FRE)
Like the meaning of the acronym suggests, FRE is money earned when you successfully refer someone to the platform. 
The registration fee on Flowextra is ₦2,500 (2,500 Naira) and Flowextra gives you the referrer a 52% affiliate commission. This means you get ₦1,300 for every successful referral you bring to Flowextra. 
Let's do a quick calculation. Assuming you refer 10 people per day, you would make up to ₦91,000 on the platform within a week!
Now, back to the question "how do I earn in Flowextra". Here is a breakdown of how your Flowextra earnings are calculated;
You get a bonus of 1000 FAE points (₦500) immediately your registration is confirmed and your account is activated.
200 FAE points (₦100) goes to you everyday you login to your account.You'll also get some rewards based on the number of sponsored posts you share every day on your Facebook Timeline.
You get 10 FAE points (₦5) on each news you click and read on Flowextra. 
You get 10 FAE points (₦5) on each news post you comment on.
You get instant Airtime of your desired network provider for posting your credit alert testimony (with a good caption) on Flowextra website.
How much is 10,000 FAE in Flowextra?
10,000 FAE equates to ₦5,000 (5,000 Naira). 1 FAE point equals ₦0.5 (50 Kobo). From that metric, we can easily calculate the value of any FAE point.
How to withdraw from Flowextra
Withdrawal on Flowextra is in two folds as users are separated on the basis of whether their earnings are FRE or FAE.
Once your FRE cash is up to ₦3,900, you can withdraw your funds. 
For FAE points; you have to have a minimum of 10,000 FAE points on you tab before you can withdraw. Remember that 10,000 FAE points equals ₦5,000.
On Flowextra, withdrawal is done on every day of the week for those with FRE cash lying in their dashboards. After you have made a request to withdraw your funds, Flowextra will review the request and pay within the pace of 1-2 hours. 
There is a catch tough; Flowextra charges a sum of ₦100 on every successful withdrawal.
The withdrawal date for those with FAE points is the ending of every month. If you have reached the minimum number of FAE points; which is 10,000, Flowextra will activate a withdrawal form on your account. 
Is Flowextra legit?
Here at ListAwe, our reviews are always honest. We believe that once a site passes our tests, it cannot be logically considered a scam. That said, Flowextra is legit, not a scam.
We have 3 reasons for coming to this conclusion;
Transparency
Among all other online income programs in Nigeria, Flowextra seems to be the most transparent. Many online businesses like the sort that Flowextra is prefer to hide behind the safety of anonymity on the internet. Yes, the internet offers some level of privacy. Most of these online businesses do so because they do not wish to do fished out when the business collapses purposefully or because of reasons beyond their control. 
Flowextra is legit. In fact, it is registered as a real business under the corporate Affairs Commission (CAC). This is something that goes against the norm in many online businesses.
Source of revenue
Flowextra doesn't just earn money from its many users. It also earns money from displaying ads. Flowextra is AdSense ads enabled and this contributes to a great bulk of the site's monthly revenue.
This again lends to our belief that Flowextra is legit. The extra cash they get from displaying these ads provides a sort of safety net in the case of an accounting mishap or financial problem.  
Zero reports of scam from individuals
ListAwe treats the opinions of individuals just as important as we consider ours. If someone says a certain website is shady, we immediately investigate. 
So far so good for Flowextra, as there are very few, if not completely non-existent bad reviews of the business. 
Conclusion
In conclusion, Flowextra seems to be better than most income programs we have reviewed. They score high on our transparency scale and their integrity does not seem to be in too much doubt. 
If you are looking for an income program to sign up for, Flowextra seems to be one of your best bets.
Check out our top performing blog posts;