There is a large number of articles on the internet claiming to be honest and detailed reviews of GramFree. While many of them may be honest, most are not detailed and are outdated. ListAwe noticed this and decided to reveal the truth behind Gramfree. Is it real or fake? We have the answer in this article.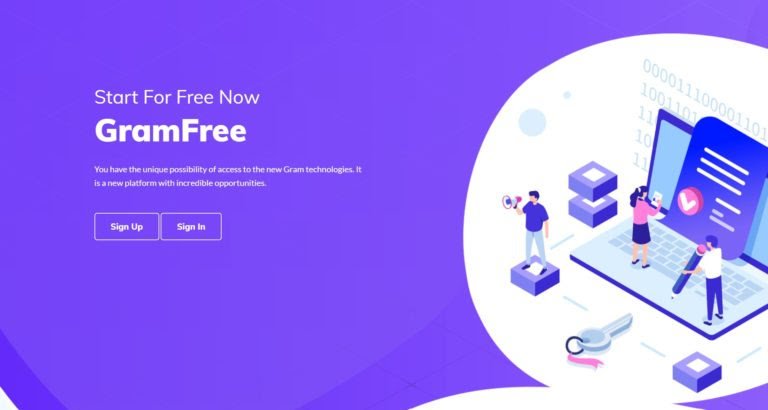 In this article, you will learn about what exactly GramFree is, how to use it and how to earn from it. There is absolutely no information about GramFree that you will not find in this ListAwe special. To the best of our ability and understanding, this is the best review you will ever find about GramFree on the internet.
This GramFree review is helpful to anyone reading this blog post from any part o the world. It does not matter if you are Indian, South African, Nigerian, Pakistani, American or European; this GramFree review is the best and most "up-to-date" ever published. It is most certainly the most detailed as well.
Let us get down to business, shall we?
ALSO READ: HAVE YOU HEARD OF BOOMPAY, ANOTHER GET PAID TO WEBSITE?
What is GramFree?
According to bizideas4beginners.com, GramFree is a kind of blockchain project that has the ability to process thousands of transactions within a second.
Gramfree is designed to be fast, safe and capable of competing with Ethereum decentralized applications.
What is GramFree World?
GramFree World is a website that rewards its users with Grams for completing certain activities. On the website, you earn Grams for doing stated activities. This brings us to an important question;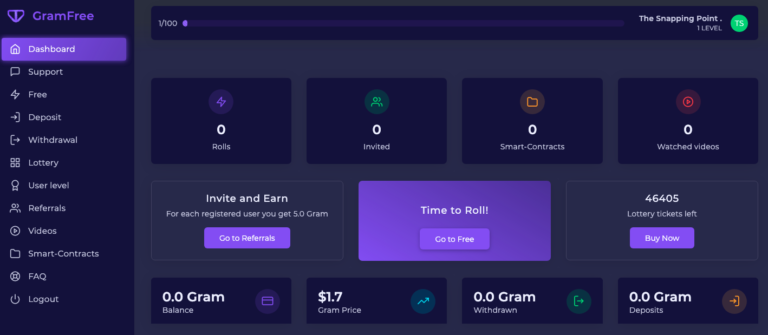 What are Grams?
The in-website currency of GramFree World is Gram (plural: Grams). In case you were wondering, Grams are a real currency. They more or less belong to the same class as many cryptocurrency; the likes of Bitcoin, Ethereum, Tron and currently developed Bees, etc. Check out our article about Bee Network where you can get free Bees.
Do Grams have a real value? Of course, yes! Once you have cashed out the Grams you earn from GramFree World, you can exchange them for real money. I know you are curious about how much is considered the minimum withdrawable amount of Grams on GramFree World. Just hold on a bit, I'll get to that soon.
In the meantime, let us answer the question of how much Grams are worth in the market as of 2021. As of 2021, which is also the year of publication of this ListAwe review of GramFree;
1 Gram= $0.0000274
Back in 2020, Grams were worth 1.78 United States Dollar. Now they are worth what you see above.
How does one earn on GramFree World?
'Get paid to' websites get a lot of spotlight mostly because people believe they can earn money from them. GramFree World belongs to this niche and in order to get paid, users must complete certain activities.
Are you curious about these activities? Don't worry, we've got you covered.
In order to earn Grams on GramFree World, you have to do one or all of the following activities;
Invite or refer new users to the website;
Engage in daily lotteries;
How do I sign up for GramFree?
Clicking this link would take you straight to the GramFree website but we advise you to wait and read the whole of this review first. Trust me, you will thank me later for this.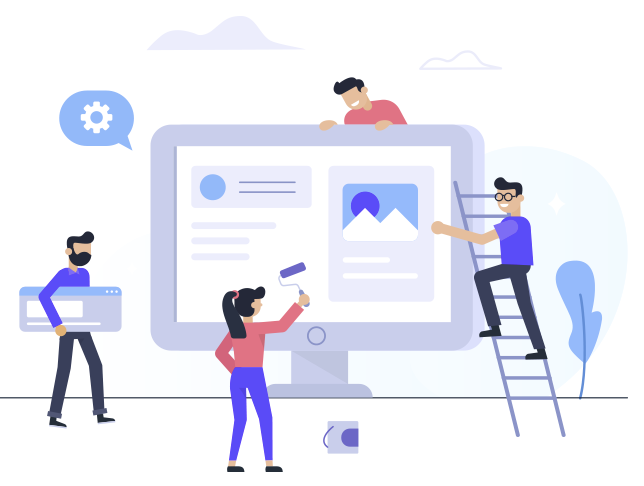 Creating an account with GramFree is not particularly difficult. It is just like creating an account on pretty much any website. There are two options for creating an account on GramFree World;
The Facebook account option and
Since both these platforms have your personal details already, signing up with either of them means you have provided your basic personal details to GramFree World.
How to login and use GramFree
GramFree might be a website but it is also available as an app. You can follow this link to download the app on Google Play store. Accessing the website can be done by clicking this link. BUT WAIT! This review is not over yet.
Is GramFree legit or a total scam?
This question is what actually prompted this publication. Many of our readers keep on asking the question so I decided it was about time we made an honest review about it.
Like any review you would find on ListAwe.com, we measure the authenticity of a website or app on three major criteria;
Age
GramFree World is an old website. It has been in operation for as long as I can remember. At the time it bloomed, it created quite a buzz among internet users who wanted quick cash.
As I have confirmed that GramFree is not a new website, many of you might feel compelled to trust the website but HOLD ON, we are not done.
Management
GramFree is not owned by Telegram as many people erroneously think. The confusion comes from the fact that the website is noted as one that uses Telegram Open Network (TON). Telegram itself has disclosed that it is not affiliated with GramFree. That brings us to the question; who actually owns this website?
The answer is that nobody knows. The owner of the website is not known and the usual means of finding out the ownership leads to a dead end.
On Who.is, the person who registered the domain had his/her name "redacted for privacy". This means that the owner does not want to be known. Now, that is very fishy. However, what we know is that the website was registered on 27th of March in 2020.
Individual Reviews
The reviews on many social media platforms scream "SCAM!" There is hardly any good review about it. Almost everyone has fallen out of love with the website.
Here are some reviews from Quora and TrustPilot;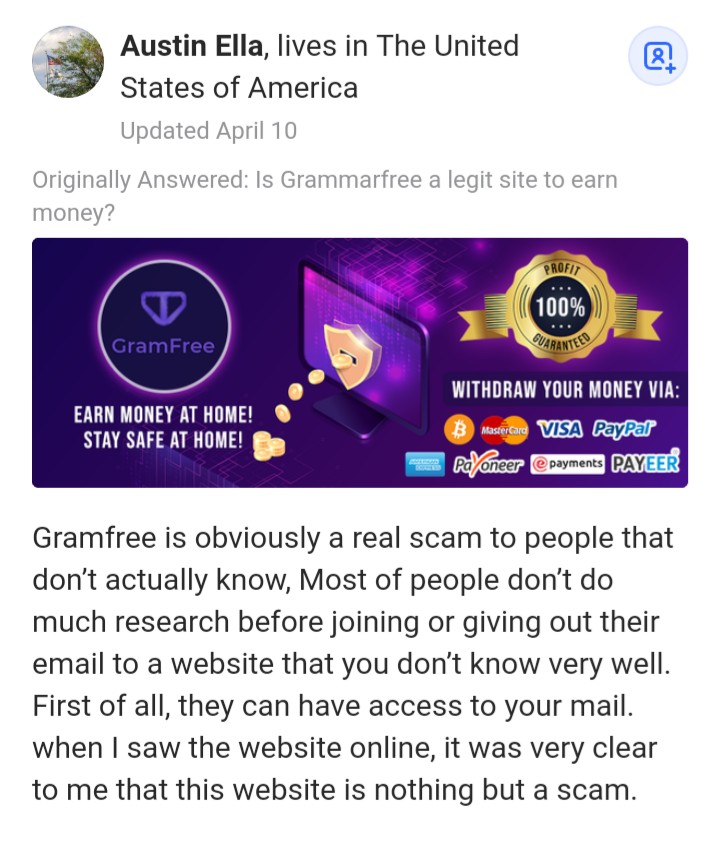 So what exactly is going on? Is GramFree really a scam? We decided to take a in in-depth look and we found many things that appeal to common sense.
GramFree might be a legit website but your emotions are definitely being played with.
TheSnappingPoint.com says GramFree is a scam because the platform promises users money they have no intention of providing. They trick you with false advertising and coax you into buying Grams while making you invite new users into the scam.
We agree and just before you slate us, we will provide you with reasons. Here they are;
It is almost impossible to earn 500 Grams
The minimum amount of Grams you can withdraw on GramFree World is 500 Grams and to get that much Grams require you to sacrifice time, effort and even your dignity.
If you want to generate enough Grams to cash out, you would need to continuously work yourself for 60 days! 60 days for 500 Grams; is it worth your time? I cannot answer that question for you.
The daily tasks you would need to do are as follows;
Watching videos (0.1 gram per video)
Entering the daily lottery where you can win Grams (you earn an average of 1 Gram per entry)
Signing SMART contracts (0.5 gram per contract)
Referring new users to the website (you earn less than 10 grams per new user referred)
In order to get many people to sign up, many users on the platform promise you that you will become the next Bill Gates if you sign up. Of course that is ah exaggeration but it is still a lie. You can hardly get rich by signing up on GramFree World.
Don't get tricked into signing up for anything if the person is promising you imaginable riches. Very likely, the person's emotions are being played with.

ListAwe.com
The website tricks you into purchasing grams
GramFree World is designed in such a way that you are unconsciously compelled, by the desire to earn money, to spend ridiculous amount of time on the website. As you spend more and more time working your soul out on this website, you become more susceptible to being cajoled to buy grams. And guess what? You cannot buy less than 1000 grams.
But why would you buy grams anyway? Well, once you buy the grams on GramFree, the amount of Grams you have would have surpassed the minimum withdrawable amount (which is 500 grams) and so you can withdraw call together.
GramFree makes money off you by another mean
Ad revenue contributes to a vast majority of the total revenue of a website, GramFree is not different. Considering the amount of time you spend on the platform trying to earn money, you would have made tons of money for them. Well done, mate!
Conclusion
Take a deep breath, close your eyes and think about what you just read. Make a decision on your own; GramFree might be declared a scam by ListAwe but you might still hold on to a glimmer of hope that the website is legit. The decision is yours.
Check out our top performing blog posts;
Please share this article. See you in our next blog post.