Have you been seeking for WORK AND STUDY PROGRAM IN USA? we have created a list of the programs for you in this article!
Probably you have thought about studying in the USA, suddenly you held a break when you saw the price tag associated with the degree. Many universities/colleges have really expensive tuition fees, especially for international students who pay out-of-state tuition. Most of these tuition rates do not include the added costs for books, transportation, shelter, and some lots more but they keep increasing steadily by the year.
For most students, this can be a hurdle. But it can be pretty nice if you could work and study at the same time. Many growing institutions now are offering specialized programs called Curricular Practical Training (CPT) which allows the student to work from the moment they arrive on campus.
Working while studying can be a great opportunity to earn money while in the US and international students can at least earn a minimum wage. Although this might not fund all your education, it can certainly help at some points, maybe buying some textbooks, paying for extra classes, etc. If you could engage in some good-paying jobs, you could pay the tuition fee.
Before participating in a work-study program, it is advisable you understand the demands of your courses and also be able to manage your schedules. 
If you are having a problem in finding a program, some organizations can be of help, for example,  Advisors, Inc., partners with several host institutions that offer both a Master's degree program and the option to participate in an internship.
What is a WORK AND STUDY PROGRAM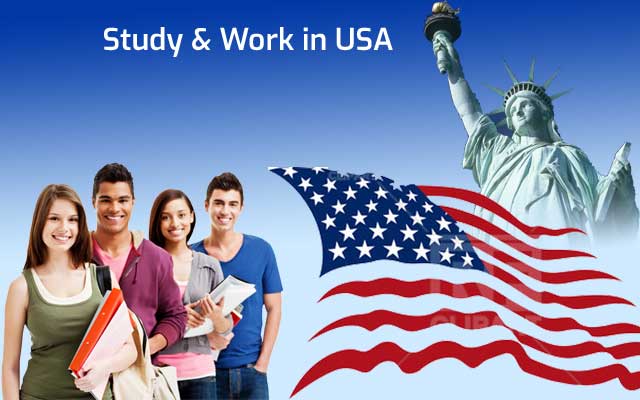 For those of us who are trying to exactly depict what a work-study program is, let me quickly run a brief definition.
Work-study programs provide individuals with more opportunities to develop new skills and knowledge and build in what they have acquired in school through a work-study arrangement.
Participating employers sometimes recruit local graduates and prepare them to take up suitable job roles. It can be part-time or full-time jobs.
I know some students are still asking this question, can I work and study in the US? Alright let me shock you if you are a student in the US, your US student visa permits you to work on campus up to 20 hours per week when school is in session, and full time during school break periods I.e about 40 hours per week.
Most colleges/ universities there offer work-study positions that provide the perfect opportunity to work and study at the same time. Most of these positions are associated with a financial aid award that goes directly towards your expenses as a student and some jobs are mostly open to student applicants.
You see! This is quite amazing and an answer to your doubting mind. You can work and study in the US and it is even permitted by the authorities which give you a go.
Below are some of the US work-study opportunities for students:
Work-study opportunities in the USA students can apply for 
Many students choose to work while studying because of the high demands of education. Most students work for noneconomic purposes, they feel that getting an on-campus job in the area of their specialization and interest or getting an off-campus job while studying can be a future help to their career which is true.
Before thinking of starting a job as a student in the USA, don't you think it's salient? We look a little into what your resume should look like in order to guarantee your appointment. 
I know most of us have been wondering why after sending probably a grammatically correct resume to several places, there is no feedback and you think they are lost in the mail or probably didn't reach the places you sent them to. Your thoughts may be wrong. Your resume may have reached your employer but he/ she wasn't interested in the grammatical content, there were basic and more important things he wanted to know in the course of the resume which he didn't find so your resume was tossed aside and kept pending. Below are some of the basic things a proper resume should contain to guarantee your job as a student in the USA.
Name and contact information.

Educational background

Leadership experiences

Customer service experiences

Accomplishments

Technical skills (computer skills if any)\

Work experience
If you can include these vital points in your resume, this gives you a go in your intending job opportunity.
Having this said and done, let us see some of the USA work-study opportunities for students studying there.
Some Work And Study Program IN USA Opportunities For Students:
Below are the Work And STUDY PROGRAM IN USA, you can consider now.
LIBRARY MONITOR 
A library monitor has the responsibility of maintaining a peaceful and quiet atmosphere in the college library. 
This particular job opportunity gives you quiet time to catch up with your academics or prepare yourself for upcoming exams. You can see that in addition to providing you with extra cash, it also helps immensely with your academics. 
Being a library monitor, you would be exposed to a lot of books that can be of help later in life. So I think this can be a good start for students who are planning to engage in work-study programs in the US.
BARISTA
Before I start, let me briefly define this, a barista is an individual who makes and/ or serves coffee or coffee-based beverages.
Coupled with the stress that is associated with school, most students need something to calm down their nerves and ease the stress, and coffee happens to be the answer making it the most in-demand drink on the campus. 
As it helps in reducing stress and fatigue, most students need it to calm their nerves probably after a class or after school. 
You could also do other jobs in a bar or restaurant. You can be a waiter, an assistant in the kitchen, or a porter. The most striking part about working in a bar is that the work commences during mealtime which is just some hours you are done. Working here too gives you enough time for your academics as you are only requested to work for a few hours.
TOUR GUIDE
Campus tours have been one of the important activities in US school communities. 
Most of the colleges there really have big magnificent buildings of architectural historic importance which can take quite a whole lot of time for the new students or even the guardians to know or get acquainted with the environment, ao the school set aside some number of old students or tutors to take up the responsibilities of taking the new guys around the school and the people usually set for this task are usually the old guys who have been in the school for about two years and above and the school authorities pays for this.
So this is another mouth-watering school study program the US government has provided for the students and this does not affect your normal school activities, rather it's a kind of extracurricular activity which you learn too but you get paid for it.
TEACHING ASSISTANCE 
This is another opportunity the American government has provided for the students. As a student, if you feel you are good with your academics and you can successfully impart what you know to others to their understanding, you could organize some tutorials adding some little price tags which are affordable to the students and you could gain by this.
You could equally work for some lecturers as their assistant, you could help them get their assignment, help them in marking and tasks they might assign you to and you will be paid for this. Though open job posts are not made for this, you would have to find them out yourself by asking the lecturers themselves.
UNIVERSITY BOOKSTORE ASSISTANT
I know this can be a little bit confused with library assistance but they have some striking differences. 
A library is where books are kept or stored for future reference. 
You can only read books from a library and return them but you buy books from a book store. \
So you can see the difference so you can work in a bookstore and assist in the selling of books, reference materials, lecture notes, and even some stationery and you could get a pretty good amount for that. Not only will it add additional cash, instead some discounts could be given to you on some books which aid in your academic process.
PRODUCTION ASSISTANCE
Universities in the US are known for their high engagement in extracurricular activities such as dance, concerts, comedy shows, plays, etc. So if you could work stage as production assistant help in organizing the function, you could be handsomely paid for it. In addition to that, you can now watch the shows for free without paying for the theme, that's quite interesting, isn't it?
ACADEMIC DEPARTMENT ASSISTANT
This is a clerical job that has to do with sorting and filing of paper works. You can find out from your head of the department the opportunities available because the department usually gives priority to students in the field. 
If you can work for your department that will give you a good chance of being connected with the professors and understanding the whole functioning of your department.
Having read through this article, you could see that you can engage in a work-study program in the US with ease. With the government provision of some work-study programs, I don't think there should be any reason you should not engage in that if you want to.