How to Get A Canadian Students Visa Faster In 2022 | Six Steps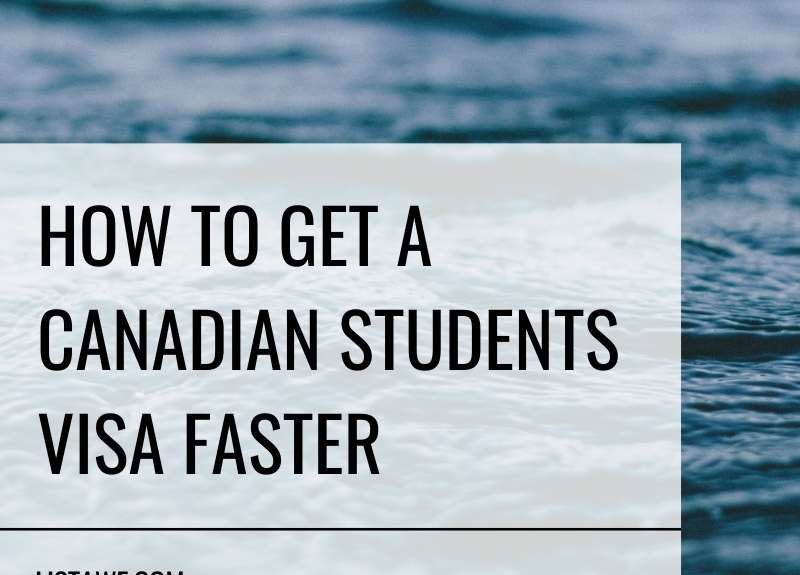 Advertisements
You have been blocked from seeing ads.
'; endif; ?>
How to Get A Canadian Students Visa Faster In 2022 | Six Steps. Studying in Canada is a dream of many students across the world. The reason is not far-fetched: Apart from high-quality education provided across the country, Canada is one of the world's most beautiful and stable countries. Also, studying in Canada opens you up to numerous possibilities and opportunities.
However, to begin actualizing the dream of studying in Canada, one of the key requirements is a Canadian student visa (also known as a Canadian study permit). Whereas it can be pretty difficult to obtain this document,, especially when you don't know your way through or around it, we offer tips to help you go about it successfully and more speedily. Here are six tips to take you there:
Apply for A Study Program In A Canadian Educational Institution And Get Your Acceptance Letter
One of the key requirements for granting a Canadian student visa is a letter of acceptance from a Canadian educational institution. To get this, you need to apply for admission into a Canadian college or university first.
After applying to a study program in a Canadian college or university, you wait for the acceptance letter. It is only when you have the acceptance letter that you can apply for the Canadian student visa.
Find Out If You Need A Canadian Student Visa To Study In Canada
It's not everyone who needs a study permit to study in Canada. So, it would help if you found out where you belong in this regard.
You can do this using this official Canadian student visa tool. The tool will prompt you to answer a few questions to determine if you need a study permit to study in Canada. 
Generally, you will not need a study permit if:
You are a family member or a staff of a foreign representative in Canada. For you to qualify under this consideration, your relative or employer who is a foreign representative must have been accredited by the Canadian Department of Foreign Affairs, Trade, and Development.

The study program in which you have enrolled is billed to last less than six months. 

You are a member of foreign armed forces who fulfills the requirements of the Visiting Forces Act.

You are a citizen of another country, but you have an Indian status registered in Canada.
Go Through A Medical Examination And Get Health Clearance
Medical tests and health clearance are required, primarily due to the COVID-19 pandemic. So, getting a health clearance from an authorized institution before applying for your Canada study permit will make it a lot faster to get. 
Advertisements
You have been blocked from seeing ads.
'; endif; ?>
Get Your Electronic Travel Authorization (eTA)
You need to know that the Canadian study permit is not supposed to replace the regular visa (that is, the eTA). So, to make it easier for you to have your study permit granted, you are advised to obtain your eTA first.
Prepare All the Documents You Will Need for Obtaining the Canadian Student Visa
These documents include: 
The original letter of acceptance from the Canadian university that has offered you an admission slot. 
It would help if you had a valid international passport and ancillary travel documents. 
Two of your recent passport-size photographs, with your name and date of birth on their back. 
Proof that you have financial support for your study program. This is to say that you must show that you have between 10,000 and 11,000 CAD per year throughout your expected duration of stay in the country.
If your study program is to take place in Quebec, you will need a Certificat d'acceptation du Québec, English and French translations of your document. It will also include a statement from the translator and a certified copy of the original documents. 
 You need a document to prove that you have no criminal record. This could be a police statement, a court affidavit, or any other suitable document.
It would help if you had a document to prove that you have paid the study permit fee of 150 CAD – such as your receipt.
If you have a relative that is working in or applying for a work permit in Canada, you can get a cover letter from them. A recent Canadian visa regulation states that if you have a family member who works in or is applying for a work permit in Canada, your student visa will be granted in 2 weeks instead of 90 days.
If you come from a non-English-speaking country, you will need to provide proof of English language skills to apply for a study program in the English-speaking areas of the country. So, while this is not needed for applying for the Canadian student visa, it will facilitate getting admission into a Canadian college or university, which will also reduce the process of getting the student visa. The accepted language tests include TOEFL iBT, IELTS Academic, PTE Academic, and C1 Advanced.
Fill And Submit Your Application for the Canadian Student Visa
Once you have fulfilled the above five points, you can go ahead and apply for your study permit. To get this done, proceed to the official website of Citizenship and Immigration Canada (CIC). 
If you are from a country where the residents require biometric tests to study in Canada, you can submit your biometric details to a visa application center. Use this tool to know if you need a biometric test.
Advertisements
You have been blocked from seeing ads.
'; endif; ?>