I am not sure you have heard of this app before but if you have, you must be puzzled about how legit it is. MyMintApp is an app that is in the same niche as many mobile banking apps in Nigeria; the likes of Opay, ChipperCash and Kuda comes to mind.
But what is so special about this app that has prompted us to write about it? Well MyMintApp, in trying to dominate or gain an edge in an already dominated industry, has released a referral program where they promised to give users 500 Naira once they fulfill a certain condition.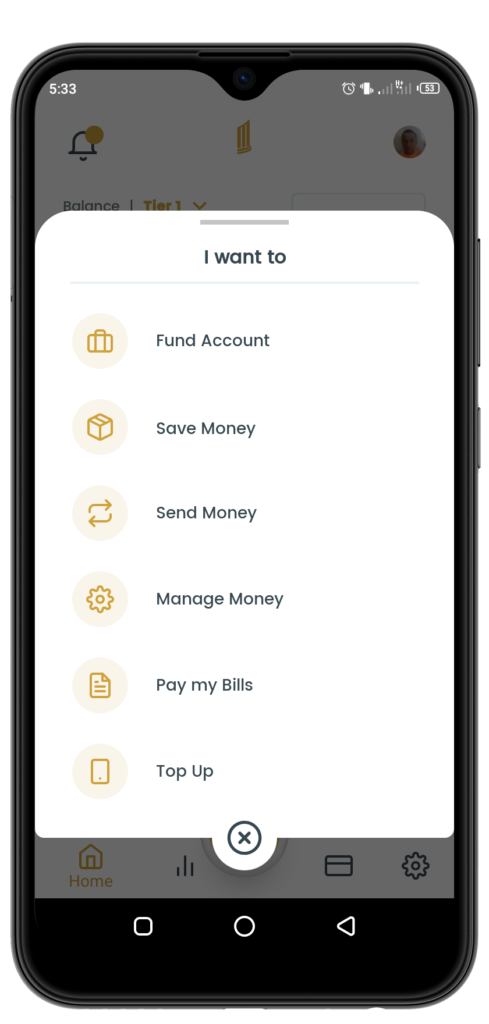 In our usual orderly fashion, ListAwe decided to write about the app and equip you with basic information that would not just prove the validity of this app as a mobile banking app but also determine if the referral program is not a scam/hoax.
In this MyMintApp review, you will find common questions users ask about the app with their equivalent detailed answers provided by us.
What is the MyMintApp?
MyMintApp is a self-service digital bank owned by Finex Microfinance Bank Limited. The app, suggestive of its name, is meant to be a mobile banking app where you can perform and oversee money transactions yourself with little or no help from anyone else or from a physical bank.
Making financial transactions using the MyMintApp is super easy thanks to the impressive UI of the app. The app is designed in such a way that every section that is related to money transaction is displayed on the first page (home page) of the app. Tabs showing other sections appear as a sticky footer in the app.
ALSO READ: Meet BEE, the free cryptocurrency you would regret not mining
What are the features of MyMintApp?
Like many mobile banking apps, this app comes with an impressive array of functions which are placed there to make the self-service banking experience stress-free.
Without further ado, I present to you the features of MyMintApp;
1. Fund Account
Without going through too much stress, MyMintApp allows users to fund a wallet the app creates for you once you register on the app. The app gives users the luxury of choosing between four different methods to fund their wallet.
The four wallet funding methods are described below;
★ Through Your Local Bank Mobile App
Many local banks come with their own mobile app. Guaranty Trust (GT) Bank for example has the GTworld app. You can use these apps, depending on the bank you use, to fund your MyMintApp wallet.
★ Using Your Card
MyMintApp also allows you to fund your MyMintApp wallet using your bank card. Your bank card could be a Naira MasterCard or even a Visa or Verve card. You can send funds from these cards to your MyMintApp account.
Keep in mind that the transaction done by this means is safe and secure. Your card information is kept secured and will not be shared with anyone.
★ Through A USSD Code
Dialing a USSD code is also an option to funding your mobile account on your MyMintApp. The disappointing thing about this method is that the USSD code for the many different banks are of course different.
To check which USSD you are supposed to dial to fund your account, you would be required to select your bank and hit "generate USSD". Once you do this, the USSD code that would enable you to fund your account would be shown to you.
★ Through Quickteller
You can fund your MyMintApp wallet by sending money directly to your MyMintApp account number. You would be presented with an account number after you have registered with the app.
2. Saving money
Another feature found on the MyMintApp is that it allows users to save funds. For many users who find it difficult to save money, this app simplify saving by dividing saving plans into three types;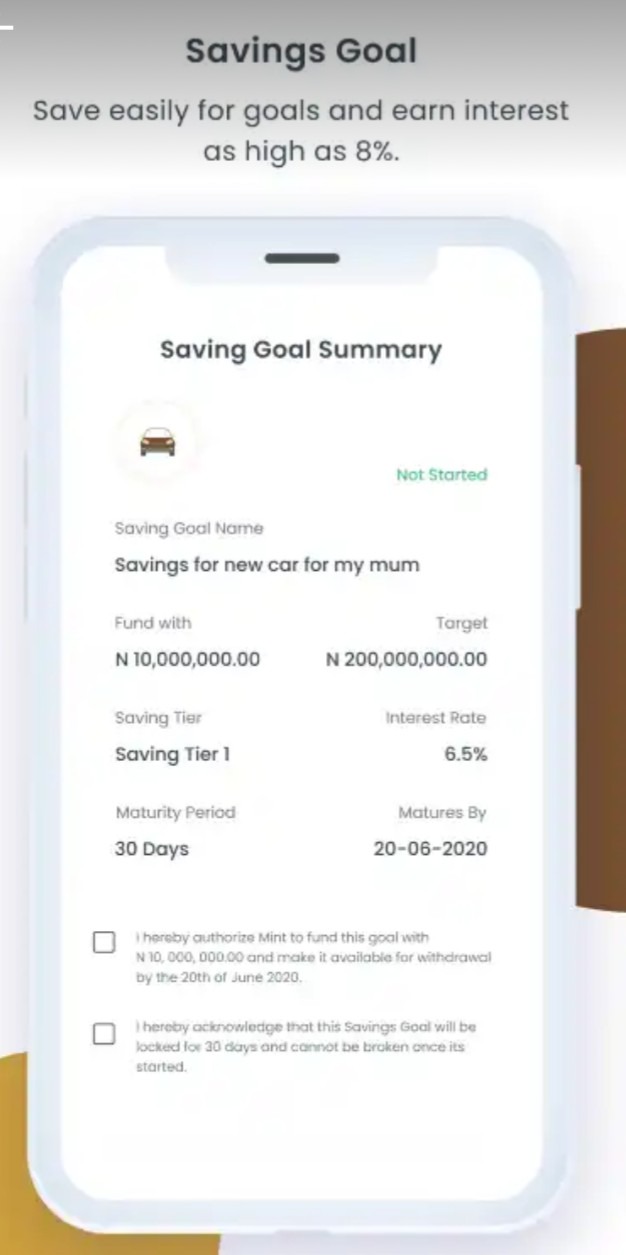 ★ Emergency Funds
In view of something unexpected happening in the future, MyMintApp users can save funds and tag them "Emergency funds". This funds can come in handy when you need money urgently in the future. Think of it like some sort of personal insurance.
The perk about this saving plan is that it can only be made available to the user at the end of the specified saving period.
ALSO READ: THE BITTER TRUTH ABOUT GRAMFREE, THE WEBSITE THAT PROMISES YOU COLD CASH
To set up an emergency saving plan, you would need to provide your name for the plan and give a brief description for what you want to save the money for.
★ Saving Goals
This feature can be found in almost all mobile banking apps. It allows you to save money with a life goal in mind all while enjoying impressive interest rates.
Just like in the Emergency Fund saving plan, you are required to provide a name for the saving plan and describe what you are saving for.
★ Round Up Saving
This is a save as you spend saving model. Users can continuously set aside saving funds with very little effort. All they have to do is to activate their round-up saving feature.
In this saving model, bills payment and find transfer would be rounded up into a saving goal and be locked for a minimum of 30 days.
3. Send Money
Sending money is one of the most important of banking transactions and reasonably the MyMintApp does not lack the feature. It makes this process so simple that all you need to do is to type the account number of the recipient and choose the bank they bank with.
MyMintApp then sends both a mail and an SMS (depending on whether you activate this feature during your registration) to notify you of the success of your transfer.
4. Pay Bills
This feature allows you to settle all your pending utility bills without much stress. You would need to select the category of bill you want to pay and proceed to the payment method.
Using the MyMintApp, you can pay DSTV bills, your PHCN (NEPA) bills and many more.
ALSO READ: How To Make 10,000 Weekly On Boompay
Verdict on MyMintApp as a mobile banking app
The MyMintApp makes banking simple and like many mobile banking apps comes with not just the usual features but much more.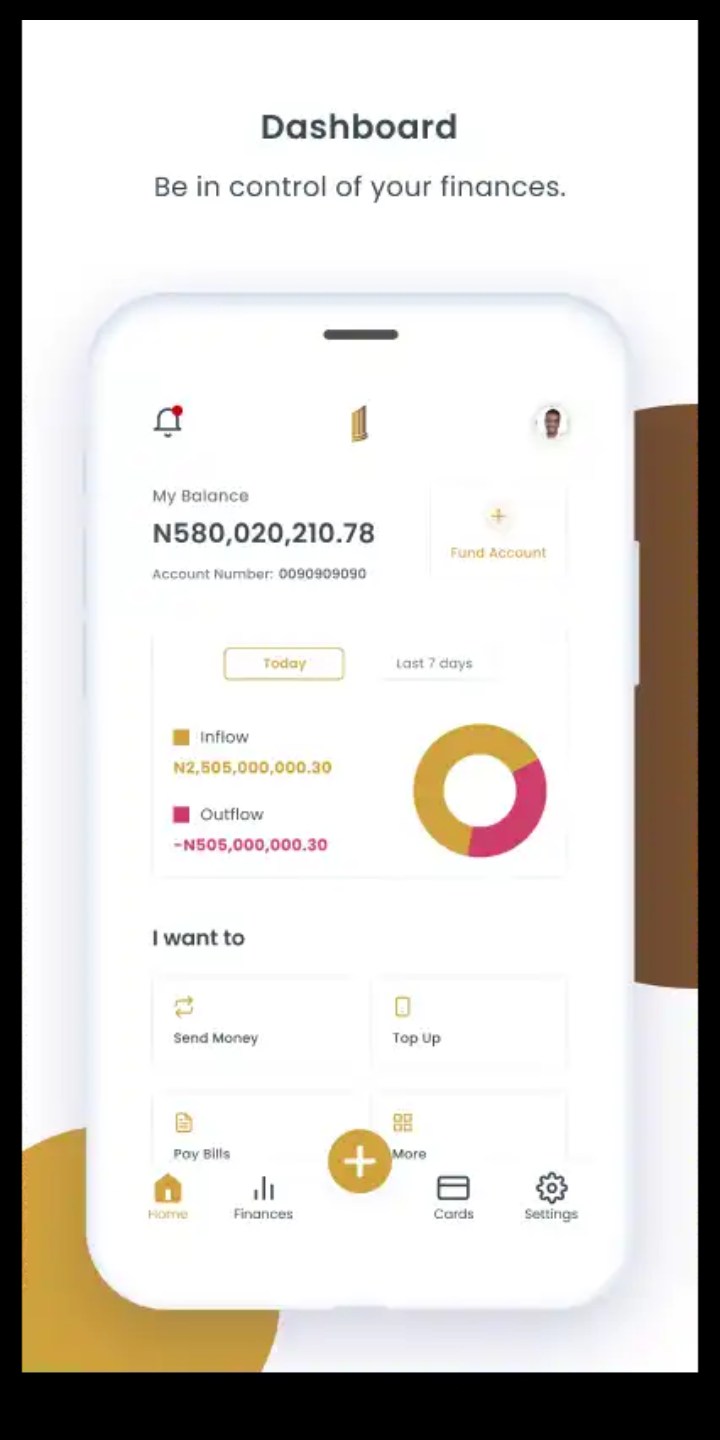 ListAwe's review of the app came out positive. Transactions so far are fast and hassle free indicating that they are not a scam app. On Google play store, the app says that your money is protected by the Nigeria Deposit Insurance Corporation (NDIC) nailing the final nail in the coffin of any accusation that they are shady.
MyMintApp Referral Program
The MyMintApp also comes with a beautiful perk. You can actually make money with this app. The title of this article is in no way a form of exaggeration; it is possible if you are serious about it.
Like we mentioned at the beginning of this article, you can refer people to download and register themselves on the app and get rewarded with money for your effort.
How Much Do I Earn For Referring Someone To MyMintApp?
For every user you refer to the app, you get rewarded with ₦500 once the user you refer fulfils a simple condition. Previously, it was ₦1,000 but the reward money for referring has now been slashed to half the original.
What is the condition the user must fulfil before I get rewarded?
Before you can get rewarded for referring a user to the app, the user you refer must create a saving plan with a minimum of ₦250 for a minimum period of 30 days. This means the user can't withdraw the money until after 30 days.
How much can I realistically earn from MyMintApp?
This depends on the effort you put into referring people.
If you can refer 10 people, you make ₦500 ×10= ₦5,000.
If you make extra effort and refer 50 people, you would make ₦500×50= ₦25,000.
Note: It is IMPORTANT that you save at least ₦250 Naira for 30 days or else you won't enjoy the referring process. Do the math, you save ₦250 Naira and you get ₦500, isn't that lovely?
How do I register on the MyMintApp?
To register for the MyMintApp, first download the app. Go to Google Play Store and search the keyword "MyMintApp". You would spot the app and then you can download it.
When you have downloaded it, you would have to register using either your account number or your BVN. Any method works.
On getting to a point, you would be asked to provide a REFERRAL CODE. Your referral code is DOBADIRE. Do not put anything in this field aside that. For emphasis, your referral code for MyMintApp is DOBADIRE.
After putting in this referral code, you can then create your password and username for login purposes.
Check out our top performing blog posts;
Thank you reading this blog post. Please share this post if you enjoyed it. If you have questions, drop them in the comments section.