1. Where do I start?
You can't apply for a student visa until you're accepted on to a course in that country. So, if you haven't already done so you need to submit an application for the course you wish to study. Not only that, but you must ensure the course meets the country's visa requirements. Your student visa acceptance will be determined by a number of factors:
Your country of citizenship
Your chosen destination country
The course you wish to study
The institution you wish to study at
How you plan to fund your study
Different countries have differing visa systems and acceptance procedures. However, they are usually very similar:
To study in the UK you need to have received an offer for a place on a course. You need to prove that you can understand English, including reading, writing and speaking. Find out more about UK Student Visas.
To study in the US you need to prove that you have a permanent residence in your country of citizenship. You need to have the funds to support your study and intend to return home once your study is complete. Find out more about US Student Visas.
To study in Australia you also need to prove that you have sufficient funds to support your course fees and living costs. You will also be assessed based on the subject you have chosen and your country of citizenship.
To study in Europe you do not require a visa if your country of citizenship is an EU member. If you are outside of the EU you should check your chosen destination's visa requirements for more specific details.
Wherever you chose to study we advise that you apply for your visa as soon as possible.
 2. Where do I apply for my student visa?
Usually you will apply for your student visa in your own country. This will require you to visit an application centre. Here you will submit your application paper work and provide any biometric information required.
Below is a list of Visa application centres for the following countries:
3. What type of student visa do I need?
If you are studying abroad for your post-16 education you will require a general student visa.
In the UK this is called a Tier 4 (General Student) visa.
In the US this is called a F-1 visa.
In Australia your visa type will depend on your country of citizenship and your chosen subject.
 4. How much money will I need?
This is one of the most common questions and is an important factor in your visa application process. It is necessary for you to prove that you have enough funds for your course fees and living costs. However, the money required can vary depending on country and region within that country. Some countries require you to prove that you have funds for the entirety of your course. While others only require proof of funds for the 1st year.
For a UK student visa you will need to prove you have funds for the following:
First year of course fees
£5,400 (£7,200 inner London) to cover living costs for nine months
For an Australian student visa:
Return air fare
Course fees
AUD 18,000 per year living costs
For a US student visa:
Proof of liquid assets to cover cost of first year study and living expenses
Proof of readily available funds to cover remaining years of study
We have created the chart below to help visualise this difference by country for required proof of funds for 1st year postgraduate study.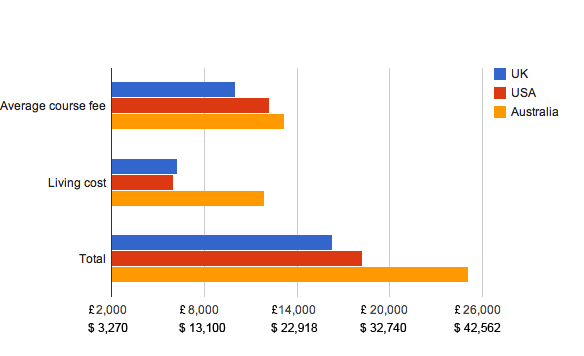 Please note these figures are an approximation for proof of funds required for 1st year.
 5. How good must my English be?
The course you have applied for may require you to have completed an English language certificate. In addition to that tighter immigration rules mean you must prove you have a good understanding of English at the border crossing.
New changes to the UK student visa mean that if you are unable to communicate without a translator you will be denied entry.
 6. Can my family travel with me?
Your family can travel with you if you meet each countries visa requirements. For the UK you must be on a postgraduate course at a university with at least a 12 month duration. Or a Government sponsored student.
For the US you will have to prove your relationship to your dependent. They will also have to apply for their own visas.
For the Australian student visa you will have to prove that you have a sufficient level of funds available to support each dependent.
We advise that you check the specific requirements for your chosen destination.
7. Can I work on my Visa?
Generally on a student visa you are permitted to work up to 20 hours per week. You can only start working once your course has started.
The same rules usually apply for any dependants you may have.
8. How long can I stay?
On a student visa you are allowed to stay for the duration of your course, as specified in your initial visa application.
You will also be allowed to stay for a short time following the completion of your studies however this can be anything from 60 days to 4 months depending on your chosen destination.
 9. Are governments trying to make it harder for international students?
While it may appear that countries are making it more difficult to study overseas the changes in the immigration laws do actually protect your international education.
The aim of these restrictions is to prevent bogus and unrecognised colleges offering poor study courses to international students. Therefore ensuring you receive an excellent education from a recognised institution.
10. Where can I find more information?
For more information on student visas StudyLink recommend the following resources:
Good look with your visa application. Feel free to ask any questions in the comments, and if you think any of your friends will find this useful be sure to share it with them via Facebook and Twitter.