Art Education is a vital and unique feature of life that means different things to different people
To some people, Art is an organized blend of color. To some others, Art is a cultural representation of values. While to some others, art is unique nature.
In whichever way, we perceive Arts, the underlying and general submissions lies in the fact that Arts is a spice of life. Just like nature, art is beauty on display.
There are no controversies as regards the beauty, aesthetics, enthusiasm, and satisfaction that Art brings.
Basically and definitively, Art is an expression of the creative contents of a man's mind, hence, it is an essential aspect of Education.
Art Education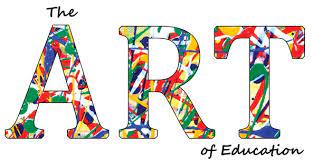 Art education is the study of arts and artistry. This study has its roots in drawing, reading, writing, singing, creating, and playing musical instruments.
Art teachers are unique and creative. Beyond helping their students to learn about the history of arts, they go to lengths in providing opportunities for students to create, explore, and access their art through artistic creativity. 
An art teacher should have strong enthusiasm for art and enjoy teaching young people. This means that teaching art should be a role that is enjoyed.
QUALIFICATIONS OF AN ART TEACHER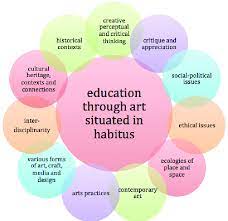 Before someone can qualify to be an Art teacher or tutor, the person must acquire a Bachelor of Arts degree in Art Education.
These degrees help in preparing for the task of educating young people ranging from kindergarteners to high school students. 
As an art teacher, it is your responsibility to help children by encouraging them to try new approaches to problem-solving and express oneself/themselves through color and form.
A degree in Art Education is tantamount and highly recommended in recent times. This is because education is heading towards a more simplified and flexible form and the early introduction of art to children is a great way around it.
In some academic settings, the method of using creative artworks to impact pupils/students seems to be a new trend.
Most schools teach children, using artistic representation other than the conventional writing board and explanations.
ROLES OF AN ART TEACHER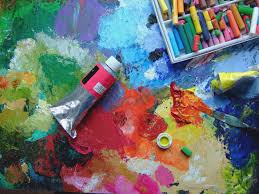 The roles of art teachers also include imbibing knowledge of artistic and creative concepts, including color, shape, and texture, to students in elementary, secondary, and post-secondary learning environments.
Art teachers are primarily tasked with the responsibility of helping students understand artistic concepts in various types of visual communication, like drawing, painting, ceramics, photography, and design, singing, dancing, using instruments, and acting. 
More importantly, a degree in Art Education prepares the teacher to work in cultivating these skills in the children, even though they ordinarily do not have any of these creatures. 
Nevertheless, their responsibility also includes overseeing the academic and emotional welfare of each pupil or student as well as meeting the grading and curriculum requirements at their school.
BASIC REQUIREMENTS TO BECOME AN ART TEACHER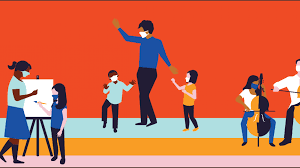 Becoming an art tutor is a great career that requires some necessary qualifications. These qualifications include:
A degree bachelor in education with coursework in art 

An art education (a Bachelor of Fine Arts–BFA–in Art Education),

 Art history with a state-approved teacher preparation. 
These are the principal requirements for becoming an art teacher for children's early learning.
Read Also: How to apply for USA visa lottery
Potential art teachers at the primary level typically pursue a bachelor's in education degree, while secondary art teachers typically obtain a bachelor's in art or art history. 
It is necessary to state that teachers are also required to obtain a license or certification from the state by fulfilling the requirements overseen by the board of education, although licenses are usually not required for art teachers working in private institutions. 
some private schools may prefer teachers with a state license or certification. For prospective teachers who did not complete a bachelor's in art education, most states now offer alternative paths to obtaining state teaching certification, including pursuing a master's degree in art education or a related subject. 
Professional artists without a formal degree may qualify for art teacher positions based on experience, but may still need to obtain a state license.
Once licensed, art teachers instruct on the basic principles of art and its history through hands-on interaction with their students. They must supervise student progress, assist students in cultivating their creativity, manage classroom discipline, grade papers, and prepare lessons. 
Furthermore, art teachers interact with management, other instructors, parents, and the community. The basic attributes of a successful art teacher include high levels of organization and time management, patience, reliability, and artistic talent.
PEDAGOGY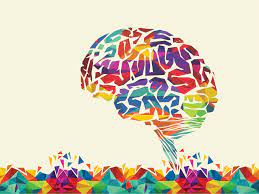 This is an interesting and necessary aspect of children's early education. Therefore, in acquiring a degree in Art Education, it is expedient that pedagogy is studied.
Pedagogy is one of the most critical subject areas to cover in children's education. However, teachers are advised to use different methods to instruct students.
Learning and familiarizing oneself with these different methods, as well as child development and learning topics, can help a teacher become a more effective and compassionate educator.
To learn pedagogy, one has to take both theory and educational psychology classes, such as Educational Psychology and Overview of Theories. Moreover, the teacher will also have to practice real-life teaching work, creative drawing, art sampling, etc, to have a practical understanding of pedagogy.
Potential teachers must know that an important part of art education is learning to research to produce effective art lessons.
Conclusion 
Choosing and outlining preferences of art education and lessons must be strictly considered. The teacher should concentrate and look into imbibing and instilling the knowledge of creativity, especially those who have small-scale classes. 
As a trained teacher or instructor, one should ideally be able to mentor students to understand and master the process of turning extensive research into engaging class time.