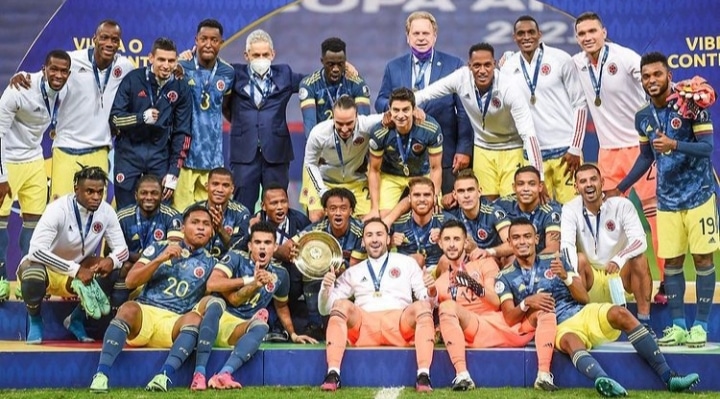 Reinaldo Rueda, head coach of Colombia has showered praises on his players for their third place finish at the ongoing Copa America.
It took Colombia an injury-time stunner from Luis Diaz to get victory over Peru and secure a third place finish at the Copa America. The match ended 3-2 in favour of Colombia.
The match started with promise but it took until some minutes to the half-time whistle before Peru broke the deadlock through Yoshimar Yotun.
But the Peru's lead did not last as Juan Cuadrado score a sensational free-kick to bring the game level.
Colombia, through Luis Diaz, led for the first time in the match but Peru, determined to not go down without a fight, equalized through Gianluca Lapadula. The header goal sent tension running through the Columbian supporters.
A few minutes to the final whistle, a miracle happened! It was Diaz with his second of the match. The Colombian attacker scored a long range strike in the 94th minute to make sure his country finished third place at the playoff match.
It is Colombia's fifth third-place win in the history of the tournament.
Colombia has only own the Copa America once and that was way back in 2001. On one occasion, they have also finished runners-up.
While speaking in the post-match conference, Colombia's coach, Rueda praised his players.
"The great gain is to have recognized this group more internally, to have valued their football, professional and human conditions. It is very gratifying to meet such a noble and receptive group, to have endured these 45 days without a single negative situation.
"It was a Copa América unprecedented, of the highest level, with very well structured teams. This is a gain for what follows and we need to reinforce the good that has been done and we want to invite the players to continue strengthening. "
Rueda added: "It is very commendable for the ability of all the participating teams and because it was something we wanted to achieve with this group. It was a great experience because nine games were accumulated in less than two months, with that intensity and the response of the players. Fortunately, we were not seriously injured."
In the competition, Colombia had two injuries and two members of the team lost their loved ones.
"We had the loss of Rafael Borré's mother and Frank Fabra's father, but the group supported them and everything was assimilated very well. There was a lot of camaraderie and mystique, and as a result of that the Copa América is dismissed with a good victory.
"The essence of our players, caste, race and talent, makes them pro-active. Sometimes overconfidence makes the rival take confidence and that complicates situations. The group showed in many games that it has an intensity and great soccer rebellion and as a result of those the results that were obtained."
Replying to a question on what he thinks of his player, Luis Diaz, the manager answered: "the collective, the ability and the strength with which he holds the ball. May God preserve it for us and we may enjoy it for long time."
Check out our top performing blog posts;